Five Spice Salted Duck Eggs – 五香咸鸭蛋 – (Wǔ xiāng xián yā dàn)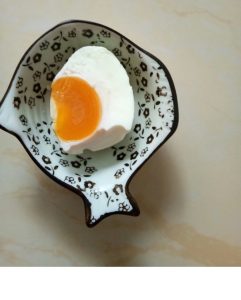 "Once summer is here, it's time to top your fluffy white porridge with salted duck eggs!"
Amount:
Makes 20 eggs
 Ingredients:
| | |
| --- | --- |
| Duck Eggs | 20 |
| Coarse Salt | 1kg |
| Water | 6 litres |
| Baijiu 52% Alcohol | 200ml |
| Star Anise | 3 |
| Old Ginger | 2 slices |
| Cinnamon | 2 sticks |
| Orange Peel | 5g |
| Sichuan Pepper | 20g |
Method (The numbers are according to the pictures in the original site):
First, wash all the eggs. Dry them out in a colander under the sun for about 2 hours
Place the spices in a spice bag and place it in a pot with the water
Boil over high heat for 20 minutes
Switch off the fire, remove the spice bag and pour in the salt. Stir until all the salt dissolved
Once the salt and spice water has completely cooled down, add the wine to complete the five spice pickling solution
Wipe the prepared jar with a paper towel to make sure its completely dry and clean
Place the eggs inside, be careful not to crack any
Pour the pickling solution in, make sure the water level did not completely submerge the eggs on top
15 days later, they will start to become salty. The maximum pickling time is 30 days. Please experiment for the number of days for your desired saltiness level.
[Tip: 1. For a brightly coloured yolk, you may add a teaspoon of glucose into the spice mix]
The original recipe can be found at xiachufang, here you can find picture instructions for your convenience.
This recipe is mentioned in The Feast, Chapter 95. 
Have fun cooking and eating!